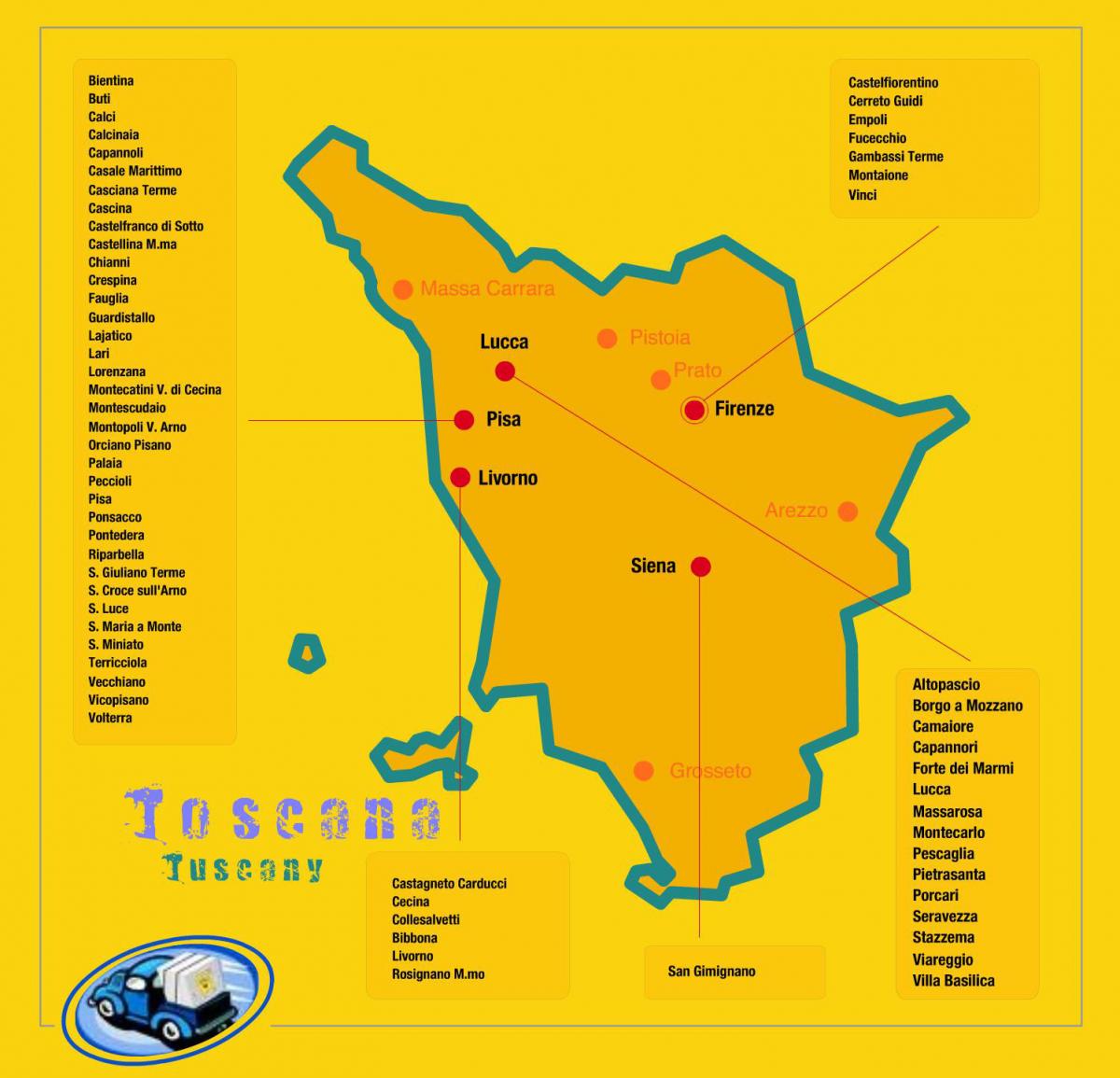 SELF PICK UP OR RETURN OF YOUR RENTAL
Pick up or return of your rental at our main office or at another specified location is possible only upon confirmation by us of the date, time and address. Our main office is not open for unscheduled pick ups or returns.
HOME DELIVERY SERVICE IN ZONES COVERED WITH THIS SERVICE
We deliver, pick up and provide on-site bike fitting services with a minimum rental fee of € 110. 
Normal delivery hours are from 9-12 am and 3-7pm with an additional charge of € 30 for anytime outside of these hours. 
The additional charge for delivery or pick-up is based on our location in Cascina to the area in the chart as follows:
For up to 3 vehicles (bicycle or scooter):
BLACK (Pisa city/airport, ): 
€ 20 per vehicle
BLUE (within 30 km): 
€ 24 per vehicle
RED (up to 55 km)
: € 32 per vehicle
For the fourth vehicle, an additional cost of € 10 per vehicle will be charged
For distances over 55 km we charge an additional € 2/Km. 
For bigger groups, bike clubs, tour operators or other organizations please contact us for personalized quotes.
Example: 
Delivery charge for rental of 4 Giant Defy bikes to a delivery 25 km away during normal delivery hours: 
(
€ 24 * 3 bikes) + (
€ 10 * 1 bike) = 
€ 82 delivery charge
€ 320 rental fee _ TOTAL AMOUNT for delivery+rental = € 402
DELIVERY AREA
Pisa

Lucca

Livorno

Firenze

Siena

Bientina


Buti


Calci
Calcinaia


Capannoli




Casale Marittimo




Casciana Terme


Cascina


Castelfranco di Sotto




Castellina M.ma




Chianni




Crespina


Fauglia


Guardistallo




Lajatico


Lari
Lorenzana
Montecatini V. di Cecina
Montescudaio
Montopoli V. Arno
Orciano Pisano
Palaia
Peccioli
Pisa


Ponsacco


Pontedera


Riparbella


S. Giuliano Terme


S. Croce sull'Arno




S. Luce




S. Maria a Monte




S. Miniato




Terricciola


Vecchiano
Vicopisano


Volterra

Altopascio


Borgo a Mozzano
Camaiore


Capannori




Forte dei Marmi




Lucca




Massarosa




Montecarlo


Pescaglia
Pietrasanta


Porcari


Seravezza
Stazzema


Viareggio




Villa Basilica

Castagneto Carducci




Cecina


Collesalvetti


Bibbona




Livorno




Rosignano M.mo

Castelfiorentino
Cerreto Guidi
Empoli


Fucecchio


Gambassi Terme
Montaione
Vinci

San Gimignano