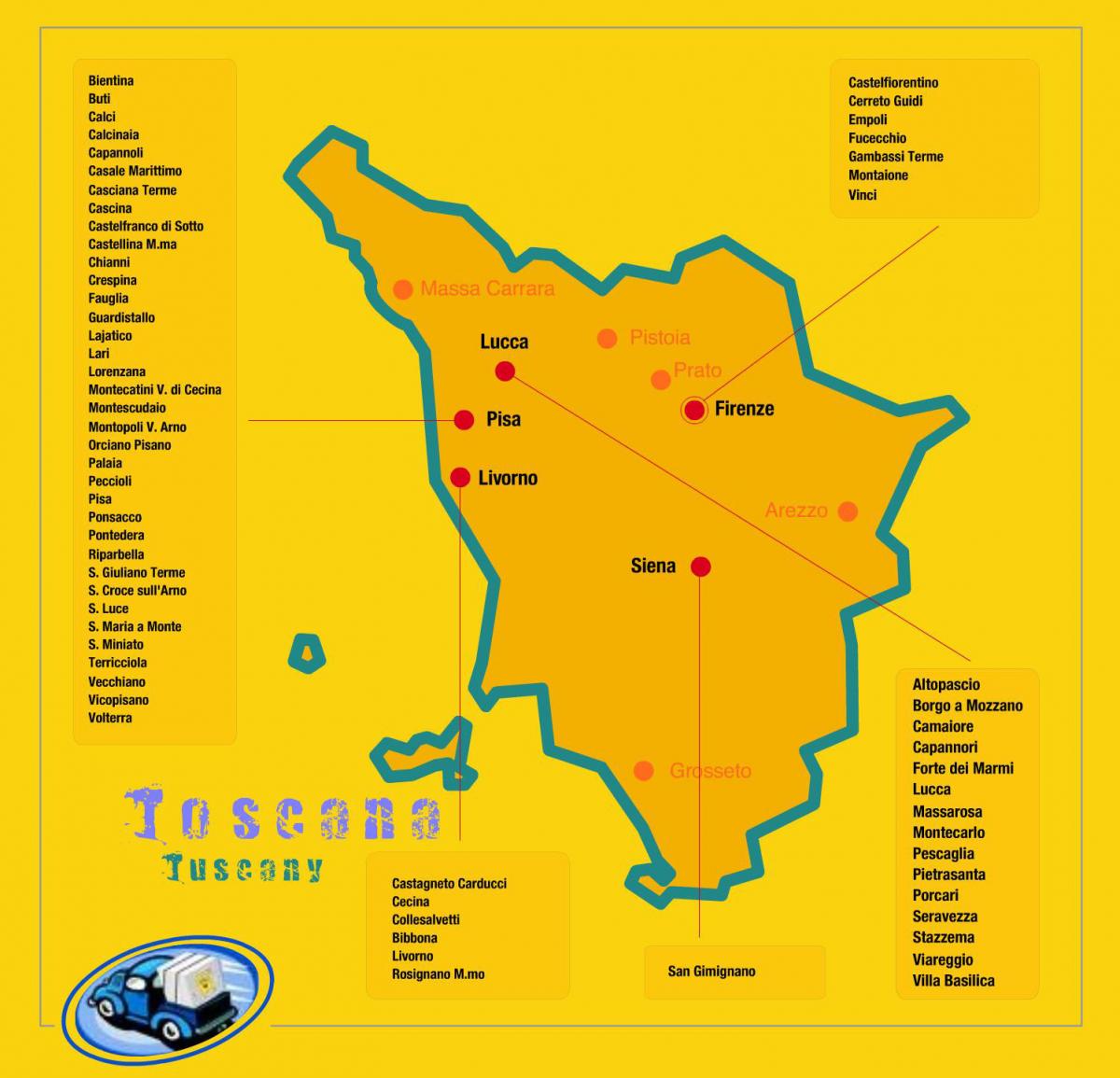 HOME DELIVERY SERVICE IN ZONES COVERED WITH THIS SERVICE
Prices for rent exposed in our chart are to be considered  for the pick up and delivery in our location in Cascina.
The additional charge for home delivery service, pick up and bike fitting varies based on the areas covered with this service* as follows:
- the home delivery service is provided with a rent expense of € 110 (based on the vehicle and duration of the rent) and will be effected from 9 to 12 a.m. and from 3 to 7 p.m. For deliveries after time an additional charge of € 30  will be considered per delivery.
- Up to 3 vehicles (bicycle or scooter) multiply the amount mentioned below - based on the distance from the location - on the quantity. For the forth vehicle an additional cost  of € 10 each piece to be added to the amount of the 3 vehicles mentioned above **
- Pisa city/airport - € 20,00 per vehicle
- within a distance of 30 km. - € 24,00 per vehicle
- up to 55 km. € 32,00 per vehicle.
Over 55 km. the cost will of € 2/Km. For bigger groups, bike clubs, tour operators or other organizations please contact us for personalized quotes.
* Chart with delivery area are below. In BLACK area at € 20 per vehicle; in

BLU

area at € 24 per vehicle; in RED area at € 32 per vehicle.
** Ex. 4 racing bikes GIANT DEFY for 3 days at a distance of 25 Km. > rent € 320; € 82 (72+10) delivery, pick up and final bike fitting. Total € 402 (100,5 € per person)
DELIVERY AREA
Pisa

Lucca

Livorno

Firenze

Siena

Bientina


Buti


Calci
Calcinaia


Capannoli




Casale Marittimo




Casciana Terme


Cascina


Castelfranco di Sotto




Castellina M.ma




Chianni




Crespina


Fauglia


Guardistallo




Lajatico


Lari
Lorenzana
Montecatini V. di Cecina
Montescudaio
Montopoli V. Arno
Orciano Pisano
Palaia
Peccioli
Pisa


Ponsacco


Pontedera


Riparbella


S. Giuliano Terme


S. Croce sull'Arno




S. Luce




S. Maria a Monte




S. Miniato




Terricciola


Vecchiano
Vicopisano


Volterra

Altopascio


Borgo a Mozzano
Camaiore


Capannori




Forte dei Marmi




Lucca




Massarosa




Montecarlo


Pescaglia
Pietrasanta


Porcari


Seravezza
Stazzema


Viareggio




Villa Basilica

Castagneto Carducci




Cecina


Collesalvetti


Bibbona




Livorno




Rosignano M.mo

Castelfiorentino
Cerreto Guidi
Empoli


Fucecchio


Gambassi Terme
Montaione
Vinci

San Gimignano